I've always been envious of Americans when it comes to books. I mean, every freaking title is available to them, and even if some are not (what, like, 10 books?) they can easily order them from any corner of the world. I, on the other hand, have to wait for 2 months after a U.S. release to find the book displayed on our bookstores, pay a lot of money to special order titles they don't release here, and/or have the "privilege" of diving into a mountain pile of dusty books at the UBS (hurrah?) just for the miniscule possibility of getting something I'd actually buy, let alone read! Tell me, how fucking fair is that?!?

I'm not finished. What about book tours, huh? Not only do Americans have unlimited access to books, they can also meet the authors! Grr, THE INJUSTICE!

But, *deep breath* I think the book gods finally took pity on poor harloty me. Oh, you won't believe this! I couldn't either when I first heard of it! Seriously, I have never thought an international author—more so, someone very well-loved—would visit my little country for an actual book signing!!!
You see, last week,
David Sedaris
made a lot of booklovers extremely happy. I found out about his book tour a month ago but didn't mention it to anyone; not even to Trollop. Well, I wanted it to be a surprise when she sees the autographed copies of David's books I'm sending her, and I know she will be; she LURVES him. What I didn't expect was that my encounter with David would be such a memorable one. So, yeah, screw Trollop's surprise! LOL I was so happy, as soon as I got home I had to tell her what happened!
Trollop:
Are you fucking kidding me?????
Trollop:
Oh, I LOVE HIM...
Trollop:
I'm so envious!!! (Ohhh, and she was LOL. Yep, it was better to tell her. :P)
Now, I arrived at the venue late, 2 hours late. Heh. I'm not sure how book signings are conducted in the U.S. (or anywhere else, for that matter) but here, you need a pass to get in and there's actually an assigned number for the line. There's a time limit and a policy that people like me who didn't arrive 3 hours BEFORE the actual signing started (during which they doled out stubs for the uber long line), would not get their books signed. I know! Evil bastards.
Truth be told, I have yet to read David Sedaris. *shame* But who cares? I was miserable that afternoon and meeting David was something I had to do. Besides, I'd already bought his books. So I told one of the organizers I would wait until midnight if I had to just to get a number for that freaking line. I think he thought I was loca and might make a scene, :/ after 10 minutes of harassing him and someone else on his ugly walkie-talkie, he let me in. Though he did say, "There's no guarantee that you'll get your books signed." Yeah, yeah. I didn't care. I wasn't joking when I said I would wait.
Turned out, *groan* that "waiting" would be 4 fucking hours (3 of those standing, hungry and cold). But, it doesn't matter really because, you know why? It was all worth it. :D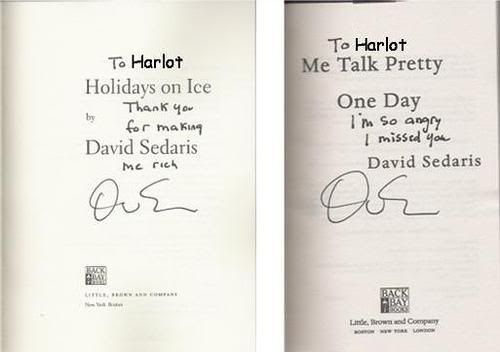 David and I actually chatted! (Pardon my giddiness LOL.) He told me I have a unique name. *g* He said, "I've never heard of that name." I told him it's the same as that famous revolutionary Cuban leader. "Yeah, but that's a guy's name," he said. I smiled. I couldn't help it—he is soooo cute! He's one of those incredibly adorable guys you just want to hug, because they're so friendly and warm (even though he smokes like a chimney). And he's tiny!
Trollop:
Yes, if you'd read
Naked
you'd know!!!!!!!!
Harlot:
I didn't know! Oh, babe, I think I lub him. *sigh*
Trollop:
He's 5'2. (I think! Or maybe The Rooster was 5'2?) He lives in Paris now, or lived there while he wrote
Me Talk Pretty
. Ohhh, *sniff* I lub him. And you lost his book!
Harlot:
I didn't! I didn't even get it!
Trollop:
Well your post office did; all the same! You should've told him I love his writing! And how you lost that book I send you! :@
When I told David to address some of my books to Trollop, he asked who she was. I said, "My evil friend who loves you. She's actually the one who told me about you and then sent me a copy of
Naked
. Of course I didn't get it because she lost the book; her postal system sucks."
He asked me if I frequent that place where they held the signing, and I said no, that I just went there for him. I think he liked that; it was the truth anyway. He then asked where I live; I told him, a 2-hour drive from there. He asked, "How are you going to get home?" I said, "I'm with my sister and we have a driver. But, well, were I not with anyone would you let me stay with you?" :P He laughed and said I should ask his boyfriend LOL (I met him too and he's very nice).
David is very chatty and really, he's A-MA-ZING. And to think I wasn't even supposed to be there (I'd already promised to be somewhere else; long story). I'm really glad that I went.
I hope David is just the first in a long string of international authors that will come visit me. *g* But even if they start bringing authors here every year now, it won't matter; I will NEVER forget meeting the very funny and wonderful David Sedaris. Oh, I wish he'd said yes when I asked if I could stay with him... *sigh*
Labels: bibliophile's affair