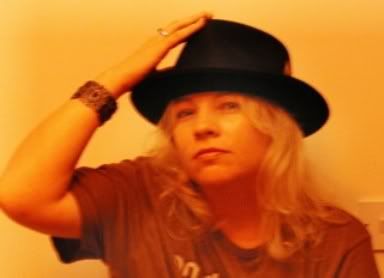 1. Favorite comfort food:
French fries. I'm a fry freak.
2. Weirdest thing you like to eat:
Hmm. I'm actually a really picky eater, so "weird" doesn't figure much into my diet. I put pepper on my ketchup. Oh, and sometimes if I'm only cooking for myself, I'll just cook hamburger with soy and Worcestershire and mix it with rice, and eat it out of the pot.
3. Favorite TV show and/or favorite movie:
Right now I'm really, insanely into
Heroes
. (But we're still in Season One here in the UK, so don't tell me what happens!) And
Dexter
. I love
Nip/Tuck
.
Favorite movie? That's a tough one.
Die Hard
? It's certainly up there.
Dangerous Liaisons
.
Conan the Barbarian
.
4. If you could wake up tomorrow in the body of someone else currently living, whom would you pick? Wow. Someone young and rich, with no children (which rules out Angelina Jolie, unfortunately.)

5. 3 things you never leave your house without: Carmex, sunglasses, ATM card

6. Last movie you watched: The hubs and I just got back from seeing Knocked Up. Excellent. Hysterical and sweet.

7. Man (besides hubby) you think is too gorgeous for your peace of mind: Oh, too many to list. Jonathan Rhys Meyers is one, he's so odd looking but so appealing.

8. Book you're reading right now: Devil May Care by Elizabeth Peters

9. What one toiletry item could you never live without? Aside from necessary things like toothpaste? Moisturizer. Or Carmex. Which is two. I'm not good at following directions.

10. Which famous person, now dead, do you wish you could have seen naked? Again, there are sooo many. I'm tempted to say Milton Berle, simply because his equipment was legendary (I heard it described as "an anaconda" once) and it would be fun to see that, but... hmm. Jim Morrison? Or pretty much any medieval king.

**Stay tuned for December's guest blog. In the meantime, check out her website; she has two new books coming out this October and November. ;)


Related:
Labels: author interview