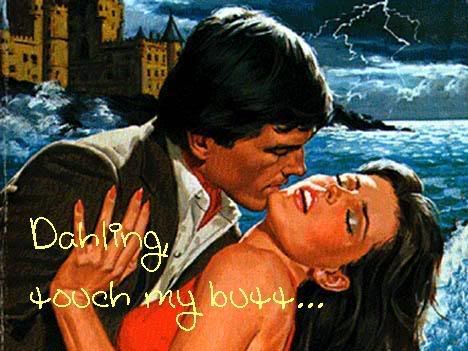 I've been thinking a lot about my love for romance novels lately, mainly because I couldn't find anything to remind why the hell I even read them in the first place.
I keep stumbling upon shoddy stories, bad writing even worse dialogue and repetitive plots. It gives me a headache to recall the amount of junk I read last year. I'd say
99% of the romance novels I got my hands on were pure rubbish
.
It had been such a long time since I read something I loved—really loved—that I find myself wondering if I truly like
Tara Janzen
's writing or if I'm just holding on to her books because they are the least crappy of the garbage I find. *sigh* I'm even looking forward to the sex—and I never look forward to sex in books. Hell, I don't even read sex scenes; I usually skip them unless they add something to the story or the book is very good.
This train of thought made me wonder about romance novels and sex. Did publishers and writers start adding more sex into books because the writing and plots became so bad they had to find a way to lure in the readers?

What happened to paying more attention to your writing and character/plot development than to how many orifices you could fill in 300 pages? I for one would much rather a good book with no sex than one filled with bad writing and sexually acrobatic characters that swing from chandeliers hooked to electrical butt-plugs or some such ridiculous thing.

I remember when romance novels where just about a good heartwarming story. Judith McNaught couldn't write an interesting sex scene to save her life, yet, she didn't need to. Her books were so engaging, her plots and characters so well developed, her stories so captivating the few sex scenes she did have—even if copy-pasted from one book to the next—just added a simple beauty to her novels.

I wonder if this why erotica (not erotic romance) found such a big niche in the market. I read all the sex in my new found love for erotica. Some of it is bad, but a lot of it is pretty creative; and even when a good amount of the writing SUCKS the sex holds up the book and it delivers. Something romance novels have forgotten to do. But sex is pretty much the only reason I read erotica, and most definitely not the reason I read romance.

With straight romance, if the writing is bad and the sex is boring, then what do they have going for them? A big fat load of nothing in my book.
Labels: romance baby, some like it hot