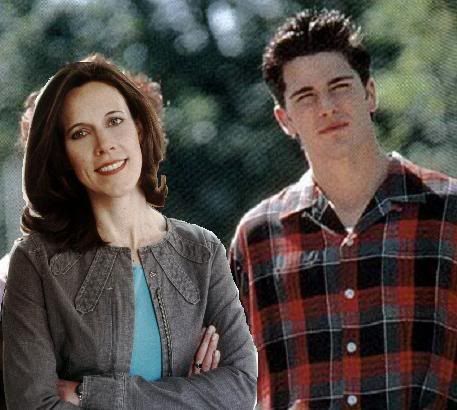 Hola gorgeous readers! Y'all know we are YA gaga over here at TBB. So you can just imagine our delight that YA star and beloved author of the Jessica Darling series,
Megan McCafferty
, is visiting us. *squee!* :D Her first novel,
Sloppy Firsts
, is an ALA Top 10 Quick Pick for Reluctant Readers, an ALA Popular Paperback, and a New York Public Library Book for the Teen Age. Its sequel,
Second Helpings
, was also selected to the NYPL list and a Booklist Editor's Pick for one of the best novels of 2003.
Charmed Thirds
was an instant
New York Times
bestseller and a NYPL pick.
As a big yippee-ki-yay for her new book, we're going to give away a copy of
Fourth Comings
(on sale this August 7th). Anyone can participate. All you have to do is leave a comment, telling us why you love YA or Ms. McCafferty. (TROLLOP, NO, FOR THE LAST TIME YOU CANNOT ENTER YOUR NAME! Geesh.) Now, as a preview of her guest bitchin' tomorrow, here are some facts about Megan:
1. Favorite comfort food: An overstuffed chicken or veggie burrito with a side of guacamole.

2. Weirdest thing you like to eat: I don't think I eat anything too weird. I freeze my Snickers minis so I eat them more slowly. Is that weird?

3. Favorite TV show and/or favorite movie: Freaks and Geeks. Sixteen Candles.

4. If you could wake up tomorrow in the body of someone else currently living, whom would you pick? Because I've got this nasty chest cold, I'd pick myself, only without the lung-rattling cough. And while I'm at it, I'd eliminate the cellulite on my upper thigh/lower ass region.

5. 3 things you never leave your house without:
1. Bottle of water.
2. Lip gloss.
3. Composition notebook/pen.

6. Last movie you watched: The Great Muppet Caper with my son.

7. Man (besides hubby) you think is too gorgeous for your peace of mind: I really don't develop crushes based on hotness alone. I honestly can't think of anyone...

8. Book you're reading right now: Memoirs of a Teenage Amnesiac by Gabrielle Zevin. It's an ARC I got at Book Expo—it doesn't come out until September. It's fantastic.

9. What one toiletry item could you never live without? Sunblock.

10. Which famous person, now dead, do you wish you could have seen naked? River Phoenix in his Running on Empty phase.


Related:
Labels: author interview, i heart ya