After discussing the
appeal of Scots romances
, I thought I should talk about what I usually think of when the beautiful nation of Scotland is mentioned: What's under the kilt? :P Heh. Oh, shut up! Admit it—you want to know too, you dirty pervs!!! *hmph*
Och, there's something about a strong Scot proudly wearing a kilt that is just, ooh la la, irresistibly sexy. Maybe not as faint-worthy as "OMG, ye so fine I is wettin' my knickers" hottie in a tux—but still irresistible that if my man wears a kilt, curious lassie that I am, there's no way I won't end up exploring it and his broad sword. ;) *ahem* Ohh-kay, why don't we see first how a
Highlander
properly dons a kilt: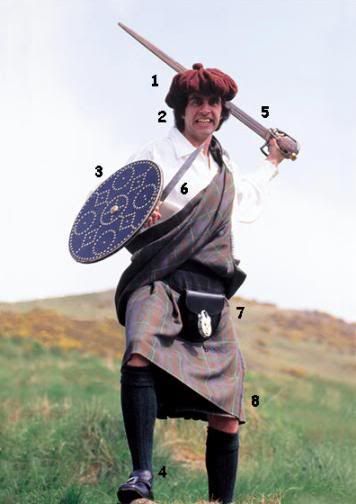 1 - Reggae originated in the glens of Scotland. Early Highlanders were big fans of Bob McMarley.
2 - Wig (optional) made from haggis hair.
3 - Targe or small wooden shield. The design was inspired by the king himself... Elvis Presley.
4 - Highlanders never shine their shoes as this may reveal what's under the kilt.
5 - Basket-hilted sword (BHS for short). The warrior used to push a sword through his head just to show how ferocious he was.
6 - Dirk. Used for dicing vegetables preparing salads and opening letters.
7 - Sporran (Gaelic for nut pouch). Most Scotsmen keep money in their sporran because if robbed, at least they enjoy the experience. LOL
8 - Kilt. If a Highlander was to take this off, you'd be shocked! It would stretch 24 feet... the kilt!
D'ye ken our Highlander is the bonniest of laddies? *g* Er, anyway, I was told a real lady wouldna inquire what a lad wears under his kilt but, really, who am I kiddin'?!? So I asked Lance Cpl. Lee Wotherspoon of the Black Watch regimen and he said, "My Scottish pride, lass. And call me Sweetcheeks." Ummm, Cpl.—I mean, Sweetcheeks—that's a wee bit vague, dontcha think? :/ But thanks to a strong breeze during the lowering of the British flags at the Cenotaph in Hong Kong, *gasp* I got a clear view of what he really means!
Now, on November 2004,
Col. Simon West
sat proudly next to the Queen in the front row of the 1st Battalion of the Argyll and Sutherland Highlanders. Dear Col. West, however, hadn't taken the time to adjust his sporran and kilt, so it flapped about for the world to see! Look at that smile; ye ken he did this on purpose? Naughty boy LOL.
I gotta admit our two brave military men are verra helpful; still, I wanted more proof. Of course it's to strengthen my hypothesis, not to see more balls! Sheesh. In any case, uber slueth that I am, I
lifted kilts of fuckalicious Scots here and there
looked for more answers. Aye. And what did I find out? Well, asked what they wear under the kilt, some verra obliging Scots replied in different ways (click links if you REALLY REALLY want to see what's under the kilt; some are gross, NOT WORK-SAFE!):
I still can't believe it! But good lord in heaven, after all that verra clear pictures of buns and weenies—evidence—even *if* I'd like to think otherwise, I have to conclude that Scots in kilts are INDEED out in the open and therefore always "ready for action"!!! LOL I guess, as Braveheart himself had said, "It's all for nothing if you don't have freedom." Why... I do believe he's referring to his balls. :P
To end this post (won't be complete without it), here's my Scot lovah:
Gerard Butler
—in a kilt. *g* And since he's MINE already, just imagine him wearin' nothin' under it. ;) (Don't forget to watch the video! Hilarious kilt stories LOL.)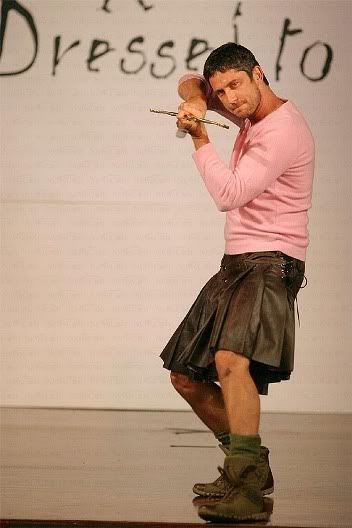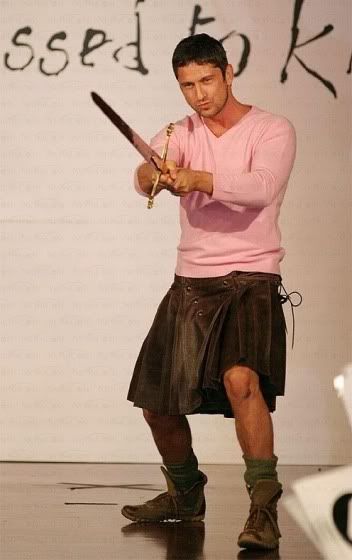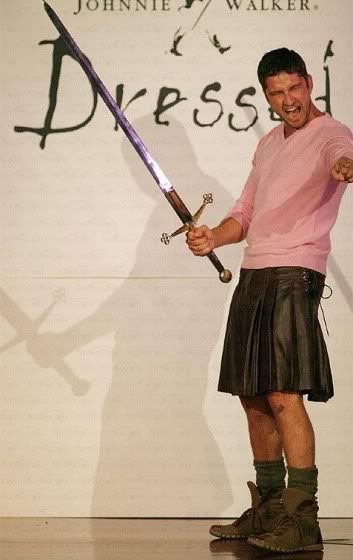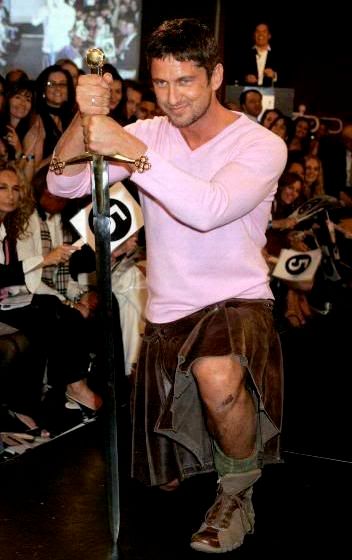 Labels: fuckalicious, fun and games, youtubery