Tomorrow is my birthday, and to be honest I'm scared to death of getting one year older; one year closer to having my tits hang to my knees, and my ass hitting my ankles when I walk. It's one more year that has gone by and I have nothing new to show for it. Am I depressing or what? LOL

I'm both physically and emotionally exhausted. I love my job, but have had so much work the last couple of weeks, I find myself without time to enjoy other aspects of my life. Not that there is much else to enjoy, since for the past two weeks have had midterms in my Investment and Finance post-grad, and my wonderful BF has dengue. *sniff* So all in all, have had a shitty couple of days.

I walked into my apartment about an hour ago and noticed a FedEx package waiting for me in the dining room table. I knew Harlot was sending me something, so immediately got excited—till I remembered it was probably that Tatiana and Alexander book. Ummm, very curious, since the package was completely flat. Had PS gotten herself a magic editor and written T&A in ten large pages? Or did I get someone else's package?

I checked both name and address, and yep, package was directed to me. Took me like ten minutes to get the damn thing open, it had tape all over the place. Harlot ALWAYS does this. It takes me a freaking hour to open all of her mail—not sure what this tape fetish she has means.

So, finally I have package open. I turned it around, and just started tearing up the second I saw it...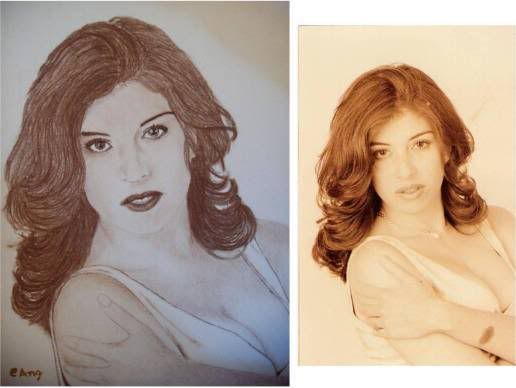 I am so touched that Harlot took the time and effort to paint this portrait of me. Not only is she incredibly talented, but I know she sketched this with love and care. There are no words that can describe the way she's made me feel. This is the most special gift I've ever received, and I will treasure it for as long as I live. *Harlot, babe, a piece of my heart also has your name on it.* If you were a man, or a lesbian, I'd marry you in a NY minute. :P

Funny, how I've met some of my best friends through the internet. Never, in a million years, would I have thought I could feel so much love for women I've never physically met; but I don't need to. Even if I never do meet them, in my heart I know them. I know their thoughts and their feelings, I know what makes them smile and what makes them laugh. I miss them when I don't talk to them. I worry about them when they are not feeling well. If their heart hurt, so does mine; if they are happy, so am I.

So tonight, on the eve of my 25th birthday, I feel very blessed to have had the opportunity to know these women. I have much to be thankful for, and I have a lot to show for this past year of my life; my wonderful bitches being one of them.

**I will scan and upload sketch tomorrow. Till then, all I have is pic taken of it with my digicam.
***Will take sketch/pic off March 17th; terribly self-concious of having everyone disect me now LOL.
Labels: i am the uber best and you know it, trollop and harlot's stuff