Sara - The Winter Rose (WOOHOO!)
Vampireprincess - The Bronze Horseman (HURRAH!)
Lollie Rose - Road to Paradise (YAYAYAYAY!)
Thanks to everyone for participating. As for the three lucky chickies, email me where you want the book send with "Raoul loves Harlot forever and evah" on the subject line.
I still can't believe we just had
Jennifer Donnelly
and
Paullina Simons
here on TBB. Jennifer and Paullina had been so gracious and such a good sport—and very patient with me too, heh.
I particularly cherish Paullina's hand-written emails to me (no idea how she does that). I even printed some of it and placed it between the pages of my
TBH
copy. (Yes, yes, I'm a dork.) The other night with my heathenish ways, I told Paullina that her "tiny house" claims and gazillion of shoes problem didn't change anything: I'm still holding her to her promise to name a character after me. To my horror, she replied: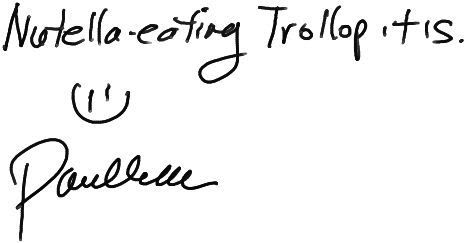 SERIOUSLY, CAPS LOCK DOESN'T FULLY EXPRESS WHAT I FEEL. I MIGHT FINALLY HAVE TO KILL TROLLOP!!!
Labels: fun and games, nutella lovah, the bronze horseman's harlot