Izzie emailed us about this site where you can make South Park characters LOL. I can't believe I had so much fun turning Trollop into "Ice Cream Girl" and myself into "Kill Bill Harlot." Well, I've always wanted to be a samurai-wielding Kitana. :P (Or maybe I'm just hunting Trollop down for not sharing the ice cream. Hmm...)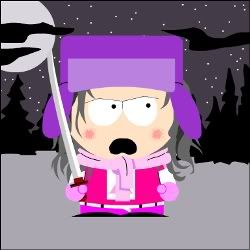 Aren't we cute? :D I made more, actually. I made a South Park
Wanker
,
Mr. Delish
,
Captain Jack
and (I don't know why :/)
Nancy Grace
LOL. Anyway, what are you waiting for? Go my lovelies and
South Parkify yourself
! *wink*
P.S. For those of you who will
email us
a copy of your "pics," I'll post all of them tomorrow. That way, everyone will have an idea of what you look like. Heh. :P Or whatever creation you want us to see, just send them over. Come on, you guys, it'll be a hoot. *g* Till then!
Labels: fun and games