When I was a little hoyden, TV didn't have any appeal yet. To Trollop's unending amazement, I wasn't even aware of old shows like the
Mickey Mouse Club
, or cartoons such as
Candy Candy
(seriously, and she thinks I'm the weird one!). And although I was already a flirt LOL, thoughts of whether I look pretty or not seems silly when all I could think of is how I'd out-swim a rotten fast swimmer friend. (I swim like a fish and he'd still beaten me! Bastard. Will never forgive him! *hmph*) So, what does a kid do without TV? Well, it's either I was doodling (I don't think my sketches then could be considered "drawings"), playing with the boys (you dirty pervs!—I really grew up with boys!), or I was stealing books from my grandfather's library. :P
Ever since I could remember, I loved books. I don't mean "reading is my hobby" kind of love; it's more of an
affaire d'amour
with all the urgency and insanity that comes with it. I now have more than two thousand books, and it's still steadily growing in number and variety. Uh-hmmm. The thing is, my love for books doesn't start and end with reading them.
I usually get books from book sales (why, yes, I'm a cheap heathen). But personally, buying cheap books is not only practical, it's a necessity as well. I mean, for someone who lives in a country where ordering book from Amazon would cost you, like, an orgasm (the injustice! *sniff*) and finding old titles is as sure as finding Britney Spears wearing knickers, it's either I dive into a mountain pile of dusty books to look for possible finds or I won't get the books I fucking want! I have to admit though, despite some complains, going to book sales is usually a fun activity for me. Well, just imagine how ecstatic I feel each time I come across a fantabulous find. It's like foreplay, really. *wink* (Perfect example of this is when I discovered The Bronze Horseman, heh.)

Now, after the buying part, my favorite portion of this affair comes next: the collection part. I know of people who discard books all the time (*cough* Trollop *cough*). I never understand why-why-WHY any sane person would do that. I mean, he-llo? Haven't they heard of rereading??? Y'all know how much I luuurve Outlander *shudder* and even that one I still have!!! Who knows I might wake up one day loony and confused and decided I can't live without Fraser the Caresser of Waterweed? (Oh, god forbid!!!) Er, *gah!* *choke* anyway... *ahem*ahem* I guess I shouldn't be too critical of these crazy freaks since most of my books came from the likes of them LOL. It's just, if it's me, I would rather die than part with my book collection because I consider it one of my life's treasures.

I take pride that part of my bedroom resembles a library. :P I love looking at my wall seeing all that books arranged by author and by category. Of course I take care of my books, protecting them from dusts and creases (I LOATE creases! *grrr*). That's why a borrower who doesn't care whether he put a fold or *gasp* a fucking smudge *hurensohn!!!* on one of my lovelies would never see the light of my purrty bookshelf again. EVAH!

Okay, I've decided to show you guys what my priti purple floor to ceiling bookshelf looks like. *g* Each space in it caters two rows of books so double that bookshelf and that's what I have exactly. Actually, there are more spaces full of books on the bottom but they didn't show up in this image:




*Sigh* Isn't it bee-yoo-ti-ful? :D

Oh. Yeah. Since my lovely bookshelf has no more space left, I had to put some books on the couch and on the floor: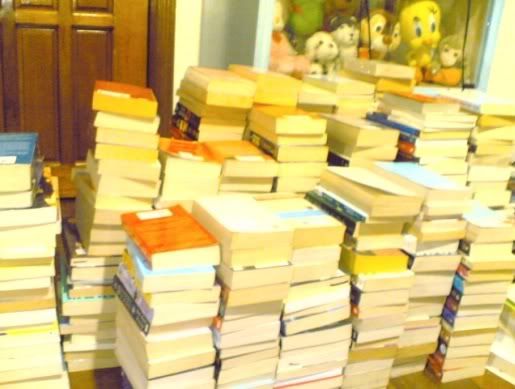 What? Of course I'm not cheating and just took some books from the shelves and placed them on the floor and then took a pic!** Honestly... :/

Anyway, what about you, do you collect books as well? Or like evil woman Trollop, you discard books after you're finished reading them? How do you arrange your books on your shelves/boxes? Oh, and by the way, what are you guys reading lately? *g*



**Excuse the stufftoys on the second pic. *blush* Tried to move the stack of books but they are too many so I had to take the pic with those on the background. Anyway, they were either given by old friends or won by my ex for me from stupid theme park game booths LOL.
Labels: bibliophile's affair, trollop and harlot's stuff