Ladies, it has come to my attention that this
really
fine looking man is in serious need of our help!
I'm sure you'll all agree this guy is wet-your-knickers-hot and OMG what a body! YUMM. But, there is one big problem. *sigh* Every time I see/think of his name my mind conjures up the image of a toothless truck driver with a beer gut; not good, and definitely not sexy! I can't even use him to treat myself like an amusement park because he truly does have the WORST name ever! I'm unable to concentrate when imagining having to utter the words "Rusty, oh, Rusty!" LOL.

I don't get how anyone this gorgeous can go by the name Rusty Joiner. *cringe* The law shouldn't even allow this! Legislators need to come up with a "Banned Names List For Hot Men." Bud, Earl, Jimmy Don and Pervis** would definitely make the cut!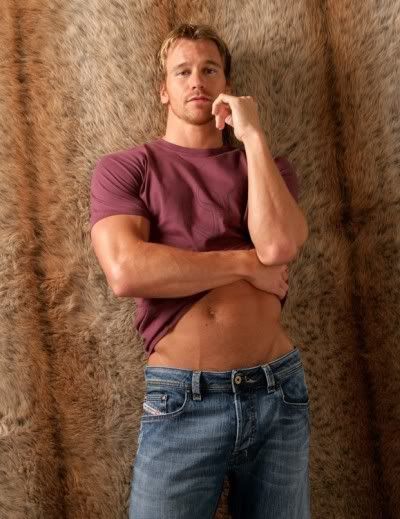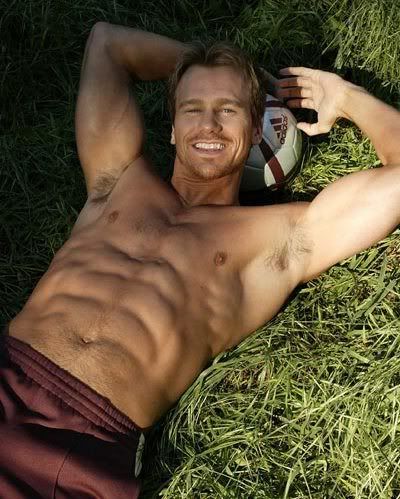 Anyway, while Harlot and I work on template changes (yes, Harlot, surprise surprise, we're working on template again HURRAH!) I thought you lovely ladies could help us figure out a new name for Rusty who, in the mean time, will be called Eduardo Corrochio.*** So put on your thinking caps and let's find Mr. Corrochio an unbelievably sexy name to go with his unbelievably sexy body. *wink*

**Feel free to add to the "Banned Names List For Hot Men." *g*
***Eduardo Corrochio's name surfaced on the TV program Seinfeld as Elaine Benes's imaginary boyfriend in "The Good Samaritan." Elaine pretended that she was dating a Spanish bullfighter to impress a married couple and make them think that she had a more exciting life than she actually did.
Labels: fuckalicious, fun and games