I've lost count on how many times I've written about BOB/wanking. Heck, I gotta write about it when it's fascinating and
I it know by heart
. I suppose it helps that it makes one forget of other things (by "it" I mean wanking) and it does keep one sane (writing AND wanking) (wanking saves the world, really).
Last week in some cave somewhere whilst I was rusticating, I stumbled upon an
article at Slate about the history of vibrator
. It's short, only ten slides, with verra interesting—and SCARY—pictures. It covers the history of "hysterical paroxysm" *snort* (yep,
same lesson brought to us by Teacher Trollop on one of her kinky classes
), perverted quacks of yore who gave their women patients some cure (AKA: handjob), poor bastards diagnosed with "spermatorrhea" (AKA: horndoginess) and, of course—EUREKA! HALLEEELUUUUUJAH!—the invention of
BOB (AKA: women's BFF *g*)
. Who knew that even way back in 1917 there were more BOB than toasters in American homes?
Here's a picture of one of those vintage BOB by Hamilton Beach: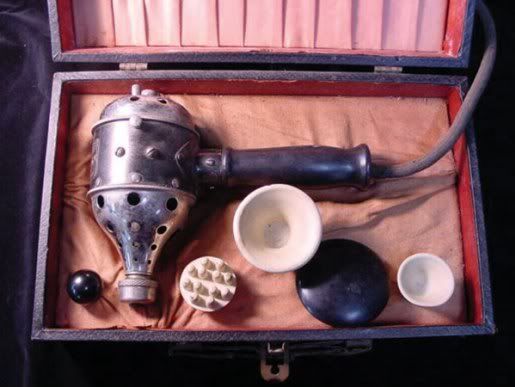 Toldja, toldja! Scary, isn't it? Gahh. Not that scary freaky-shit apparatuses have or WILL stop a "hysterical" person to spank his monkey or pet her beaver or tickle the pickle—or, er, jerkin' the gherkin? *confused* Oh, you know what I mean...
**I'm fixing some stuff on blog/template, changing sidebar, checking links, repairing damages caused by Trollop, etc. If you guys notice any problem, let me know. Thanks.


Related:
Labels: cock fetish, sex and the bitches