What a tragedy
. When Trollop told me about this last night I thought she's just being Evil Trollop and was only joking, particularly when she mentioned he was found naked with pills in whatsherface Olsen twin's apartment. And then this thing from some "church" came up: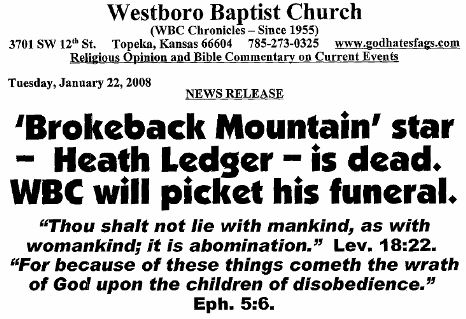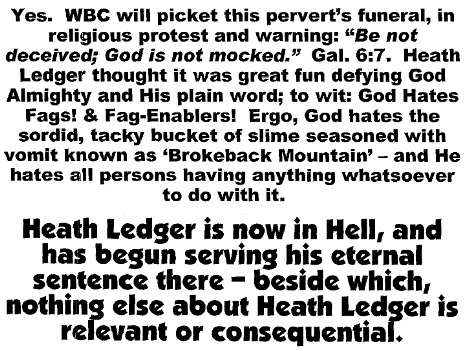 I'd never even heard of this Westboro Baptist Church. According to Wikipedia, it's a group that condemns lesbian, gay, bisexual and transgender people, Roman Catholics, Muslims and Jews, as well as populations it believes are supporting the abovementioned groups, including Swedes, Canadians, Irish, British and Americans. They picket gay pride events and funerals, and achieved national notoriety due to its picketing of funeral processions for soldiers killed in Iraq war combat.

Ohhh, what hard-working and dedicated assholes! (I will not link or mention their website; they've gotten enough sordid publicity, abhorrent pigs!)

I never wish for anyone to die hanging by the balls in a public square where people took turn to beat him with bamboo sticks, but it's hard not to when faced with the biggest group of ignorant fuckwits I have ever seen. These disgusting morons sure make Tom's science fiction tree house church look like an amateur.
Labels: bitchin' news, celebs crap