Trollop's confession of being a hero snob
(and proud of it—for shame, I tell you!) reminded me of our talk months ago regarding
Loretta Chase
's
The Last Hellion
and
Lord of Scoundrels
. (I haven't read either book—Trollop's fault, really.)
Basically, she lurves Vere Mallory, the notorious Duke of Ainswood, because, well, he's pretty. On the other hand, she UNlurves Sebastian Ballister, the notorious (they're all notorious) Marquess of Dain, because he's fugly like Britney Spears—who, if you haven't heard, is now making a comeback with new "songs" that are every bit as horrifying as I'd expected with lyrics like: "I'm just the girl with the ability to drive a man crazy/
Make him come in my mouth
/ Make him my new baby." Yeah. Right. Fucking idiot. For the love of all that is pure and holy, someone brave needs to stab her in the heart with a silver cross!
Oh-ho-kay, where were we? Right. Hero snob. So! Since I'm lazy, hee, here are the screencaps (from my trusty MSGR history :D) of that conversation I mentioned above. (Again, apologies for the typos; Trollop's in purple, me in green.)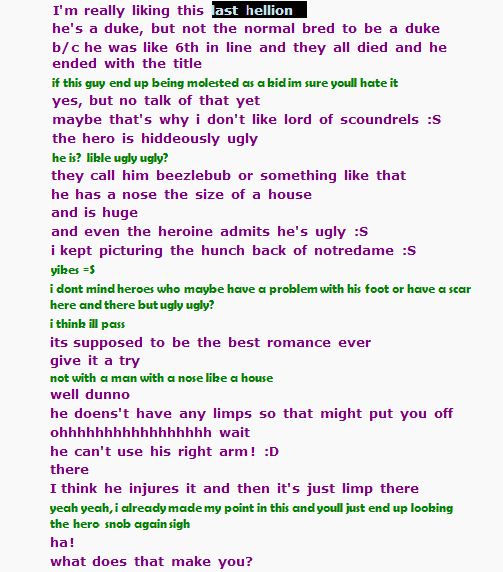 I'm not a hero snob as well, am I? *sniff* Oh, c'mon! That Evil Woman Trollop tells me Sebastian is known as Beezlebub and ugly-UGLEEE like Quasimodo and you expect me to oooh and aaahh over him??? Give me a fucking break!

I'm curious though, because this isn't the first time I heard LOS is "like, the best romance E-VAH." I don't know how romancing Beezlebub Quasimodo can top lovin' Matt "Harlot's One & Only Uber True Love" Farrell (MATT. IS. MINE. *glaring*) but hey, to each her own. :P But then again, maybe I shouldn't factor Trollop's judgment on this since she's a shameless hero snob. Hmmm... Now I'm conflicted. :/

Those who have read LOS, is it as bad as Trollop says it is, or is it really the BESTEST romance in the land? Did you like Dain less (or the book itself) because he could give The Elephant Man a run for his money? Promithe, I won't call you a hero snob (outloud *cough*) if you did...
Labels: britney fucking spears, for the love of rakes and rogues, romance baby