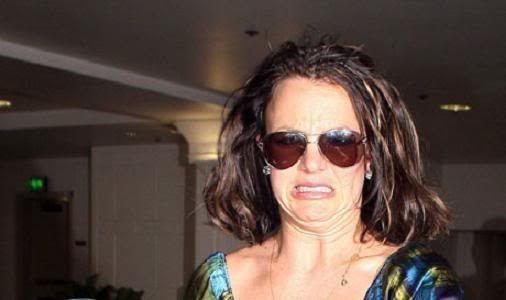 Hi Prospero's Books owner, Tom Wayne!
Seriously, Tommy, you are an E-D-IOTT.
Burning BEEzillion of books to protest "decline in reading"?
I don't get it, y'all. Well, Kevin said I usually miss the point but what's that stupid pimp knows anyway? Y'all thinks I'm soooo dumb but HA! HE AIN'T GETTIN' ANY OF MY MOOLA!
But back to my point, Tommy, I'm missing the point here. REALLY. Burn books to PROMOTE reading? Oh, I'm totally CONFUSED, y'all! Not a good thing coz that makes me drop my kiddies or my nuggets or my panties!
I ain't reading a book even if y'all put my wig on it anyway. Not even if Justin got it for me. TOTALLY, y'all. I only buy magazines that say I'm Queen Bee and y'know, people LOVE me and IDOLIZE me so that means people ain't buying books too. Besides, I heard on the radio where y'all play my hit songs that books are SO DEAD so it's like, NO POINT in burning them. That's like, double kill, y'know. Tee hee. Get it? DOUBLE. KILL. HA HA HA HA! Seriously,
it's not like people still read
coz watching TV is funner, y'all, and many people are illegitimate anyway or whatever that word is for those who can't read.
Anyhow. Y'all burning the WRONG books anyhow. Those ain't even popular like the "Bible" or "Moby's Dick". What I'm sayin' is that if y'all need a book sparkling to get attention y'all need a book from someone POP-U-LAR. Like a Queen Bee. Get it, Tommy? Ok. That means ME, in case y'all slow like my stupid new nanny. So. Yeah. I'll write a book and call it
"Make Him Come In My Mouth"
and it'll be like Harry Potter!!! AND THEN Y'ALL CAN BURN IT. :D
Ok? So, bye. Sloppy kisses.
BRIT!!!!!
Labels: bibliophile's affair, bitchy mcrant, britney fucking spears, fucking around