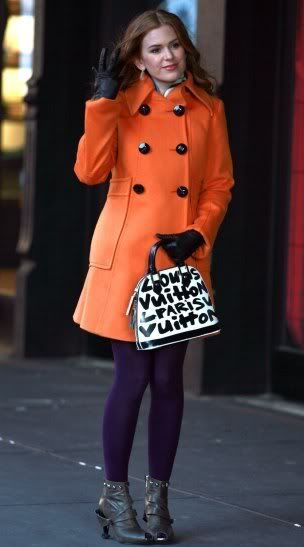 I know Hollywood is the land of fake (fake face, fake boobies, fake husband, fake sex—you name it!) where originality is scarce so
book adaptations should always be expected
, but gawdalmighty, I'm beginning to think
every bleeding bestseller is being made into a movie
. (Not that I'm complaining, hee. As of now, my most anticipated movie is
The Time Traveler's Wife
.)
Production for
Confessions of a Shopaholic
, based on the novel by
Sophie Kinsella
, has already began a few days ago in NYC.
Isla Fisher
** will play Becky, "a compulsive shopper in Manhattan up to her neck in debt who becomes a financial-advice columnist." Photo above is one of the
first photos taken from the set
; I should hate orange and purple together but love the tights, loooove the coat—I think she looks pretty spiffy. Then I looked down: peep-toe booties? :S
Anyhoodles, according to
IMDb
,
Krysten Ritter
joins the cast as Suze, Becky's BFF.
Hugh Dancy
is also listed but without mention of a specific role. Is he going to play the verra fuckable Luke? More importantly, will he open up to Becky *ahem* *in Becky's voice* "like they do on
Dawson's Creek
"? (
Source
)
**How does Mrs. Borat stay looking so young? Virgin's blood? Dolphin's tears? Unicorn's poop?? What, whaaaat???
Labels: bitch at the movies, celebs crap