Within the next 24 hours, many people will be talking about the Oscars; mostly making fun of this and that actress who "had a fugly dress" or "whose necklace/purse/shoes don't match with her gown, euw," acting like they're the next
Pat Field
or something. *snort* Of course I'm going to poke fun too LOL, but I don't think I can pretend I'm an expert since, let's face it, I wear leggings with girly flat shoes because I look fucking cute on them (anyone who says otherwise has humogous thighs and/or jealous *hmph*).
Now, we have a late telecast and
Kate Winslet
just presented (LUB her, though boring dress tonight). The show isn't over yet but I'm falling asleep and I don't want to wait tomorrow to post some of the thoughts I had regarding this year's Academy Awards (might forget them), so:
God, Penelope Cruz has an irritating voice. Still, she's one the most beautiful woman I've ever seen. Bitch. And, even though her train could have been a carpet on my dad's office, loved her gown.




Helen Mirren looks FANTABULOUS. I'm pretty sure she'll win, but I want to hear Meryl Streep deliver one of her funny/gracious speeches...




Where the fuck is Brad Pitt?


Beyoncé FINALLY found out it's alright to wear other colors besides fucking gold—praise be Jesus! Halleluiah! HURRAH! But, er, WTF is she wearing? She looks like a professional wedding crasher with a cheapo dress. :/




Loved Anne Hathaway and Emily Blunt's Devil Wears Prada bit.


Eva Green looks like Morticia Addams.




If I were Jennifer Hudson and the oh-so-fuckalicious George Clooney gives me an award, fuck the Oscars! I'll throw myself on George and faint! If I don't loose consciousness I'll pretend to just so George could carry me off that stage on his mighty arms and have his wicked way with me. Oh, my. :P


OMG, is that (ex) cutie Gael Garcia Bernal??? *gasp* What the hell happened to him? It seems like, instead of growing some inches, he's grown into one of those always rumpled-looking professors who don't replace their briefs for days... :/


I'll shag George Clooney on stage if they let me. Oh, George... *sigh*


I'm disappointed Daniel Craig wore a tux. I wanted another moment like that on Casino Royale where he walks out of the water in his swimming trunks, the camera panning upwards, across his torso, his arse, his pecs, highlighting every ripple... and this time, with him on a semi hard-on. Delicious. *g*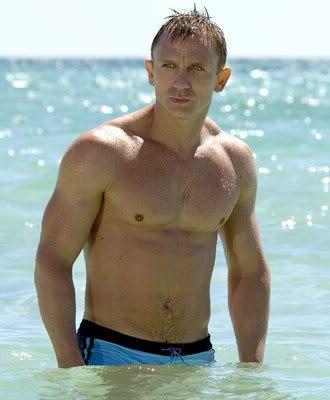 UPDATE: For the list of winners, click here.
Labels: celebs crap, fucking around, mctv