Last month,
Shoshana
told me she saw something at the mall that reminded her of moi. Last night, I got a very cute number with this printed on the front: "I know what boys like." LOL I thought I'd get a pink
BOB
!—but the tee will do really. *g* I luuurve it. Merci, Supermoma.
Dance
, I'm sending Dean and Sam after you, you monster! My poor wee fingers almost bled trying to open your uber-taped thingys! But, y'know... it's worth it; the books are muy perfect. :D Muchas gracias, Supernatural Chica. (NOTE:
Robin McKinley
fans, she has a new book coming out this September,
Dragonhaven
.)
This is late but grazie to
Marg
who helped me get some out-of-Harlot's-reach books. For
The Summer Garden
alone, I'm forevah grateful—especially when the package included Tim Tams! OMG, yum yum yum. Honestly, books and chocolates... *sigh* Talk about the bestest kind of package! (Of course, till someone finally has the sense to send me an oh-so-yummilicious Italian wrapped in a pritti paper with a red bow around his neck.) (That's a
hint
in case you guys missed it, heh. :P) (Seriously, I'll be waiting. *tapping foot impatiently*)
About BBC: I'm sorry I forgot. I'm just... preoccupied lately. :( If you still want to continue the discussion, let me know, okay? Also, any suggestions for our March book selection? Oh, wait. It's Trollop's turn to choose! Owki, let her worry about that then LOL.
For fun: The lovely Lola Lovegood sent us a link of this fab site where you can
turn yourself into a romance novel cover
! Look at mine and Trollop's: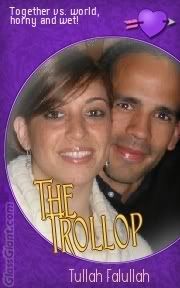 What d'ya think? Bitchingly uber cute for Harlequin? :P I thought, like we did with
South Park
, you guys (that includes the lurkers *g*) should send us your own creations and I will then post them tomorrow. C'mon, my gorgeous chicos and chicas, it'll be fun. ;) Enjoy, and then
email me, baby
.
Labels: fun and games, romance baby