I've never seen HBO's
Big Love
but my ex just sent me its complete first season DVD. (Men...
I have no idea what he's suggesting
, honestly.) I wasn't even aware of this show as I'm pretty sure they're not showing it here yet in Far Away Land. So, of course, I looked it up and...
*Gasp* I'm sorry? Eau de Polygamie??? *confused* Surely, there's been a mistake. Er, right? :/ Hmmmm. In any case, I looked for more...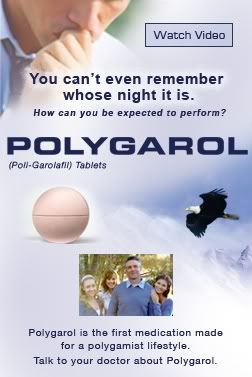 Polygarol? A polygamist Viagra??? "
You can't even remember whose night it is. How can you be expected to perform?
" WTF... This simply CANNOT be true! But good lord in heaven, I clicked the video and saw this!
Did you hear what one of the wives confides? "
With Polygarol, we can finally get that fourth wife we've been talking about
." I burst into uncontrollable laughter until I was crying it's no wonder my mom said, "Harry Potter again? That boy is a maniac." LMAO *wiping tears from my eyes*
Well, I suppose I can understand. :P Polygamy isn't easy. Women have to set themselves apart from all his other wives, while men have to keep up. I mean, if you're dipping your stick into multiple pools and are expected to satisfyingly give every one of them "
ripples and waves
," *tsk* buddy, you and your "
little buddy
" are
going to need some help
! Aye! I suggest you talk to your doctors about Polygarol but—oh ho ho, my good man—do remember what the disclaimer in the video tells us: *ahem* *quick-spoken deep voice* "
Polygarol is not right for everyone. Doses may vary depending on amount of wives per household
." ;)
Related:
Labels: fucking around, fun and games, mctv, sex and the bitches, youtubery