Did you know that the average number of licks to polish off a single ice cream cone is 50? Well, you should. Particularly when today is the day I scream, you scream, we all scream for ice cream!!! YAYAYAYAYAY!
No, I haven't lost it, sheesh. *rolls eyes* In 1984, President Ronald Reagan thought ice cream deserved to have the month of July dedicated to it and declared the third Sunday of the month as
National Ice Cream Day
. *sings* "
I like ice cream—yes, I do! One scoop for me? No! Make it two!
" :D

Whether it's on cones or sundaes or rootbeer floats, to banana split to my all time favorites: strawberry with cheesecake pieces *sigh* or brownie à la mode—oh my my my! Then, there are the oh-so-important toppings:
Nutella
, caramel, hot fudge (oh, be still my heart); macadamia, peanuts, and other nutty nuts. Fruits, whipped cream, marshmallows and chocolate: chips, strands, sprinkles or flakes! And you know what I love even better? When my ice cream is actually the topping over my man... *yummy* As the song goes, "
some lick around and around, so it never ever comes dripping down
." LOL So you see, folks, serving ice cream is only as limited as your imagination. ;)
Look at this couple ice cream-ing (NOTE: NSFW image after the jump):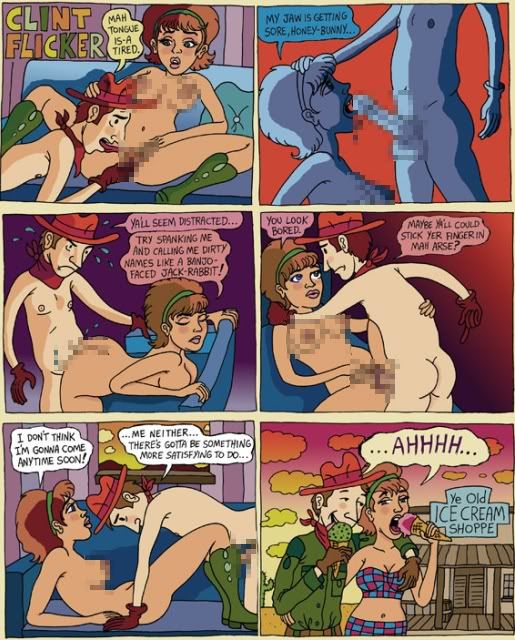 Heh. Nothing more satisfying than ice cream. :P Now, here's a funny ad that's been banned in Italy:
What about you? What flavors/brands of ice cream are your favorites? How do you serve it—or even better, how do you like it served? In any case, I say, it's a good day, go indulge and have some scoop, scoop, scoop of ice cream. *g*
Labels: holidaze, kinky lifestyle, nutella lovah