Can you believe our little blog just got its 250,000th reader? And only after a year and two months since we started our stat counter! *gasp* YAYAYAYAY! HURRAH!!!
Oh, happy day! After starting with less than 20 readers (lord knows who those poor souls were) to now getting around 800 visitors a day... to
Trollop moving to that vile uber vile place called Madrid
...
to the two weeks we actually fucking LOST OUR BLOG
(what a fat bitch!!!).
Brad Pitt is getting ugly *weeps* and Beckham has BFF'd a sociopathic midget with a god complex—of all people for fuck's sakes. Still, we have a lot of reasons to do the conga with tequila and Raoul. Yep. *g* After having December off, our BBC is back, and with it comes a FANTABULOUS book. (Are you guys reading
Twilight
? 'Cause, ya know, we're counting on you to participate. :P) We also have to mention some of our lovely lurkers who are finally coming out of the closet—oh JOY! :D
Actually, *blush* what we're really trying to say is: THANK YOU, our wonderful, lovely, bee-yoo-tiful readers, from the bottom of our wicked little hearts, for visiting every day and posting your thoughts and comments. It humbles us that, despite the fact that we're crazy heathens, you really, really like us. We lurve y'all! *sniff* (Except for those thieves who fucking steal our stuff/ideas without linking or even mentioning us. *GRRR* We know who you are, fuckers.)
Now for our little tradition, here's a little feast for everybody. Enjoy...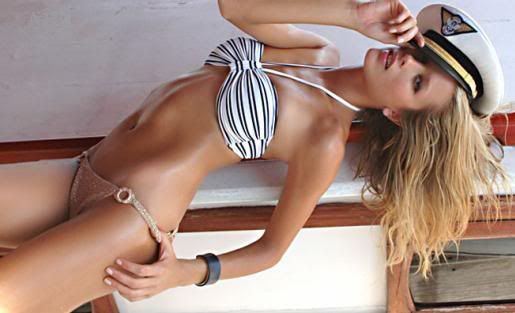 "I'm a perv and I wanna see more!"
LOL Kidding, boys and girls who like girls. ;P
Oh, more more more!!!
Don't you just lurve his... er... blue trunks? Tee hee.
For those of you who still haven't posted on our
delurking thread
, what the hell are you waiting for? Go on... ;)
Labels: blog buggery, fuckalicious, i am the uber best and you know it