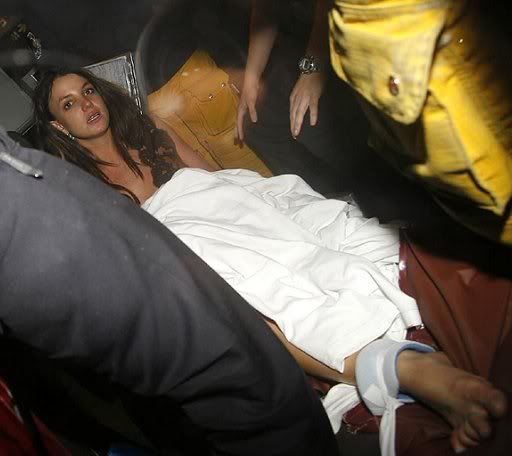 It is not humanly possible to write a soap opera as dramatic as the life Britney Spears actually lives.

Tonight at Spears' home, while allegedly on some sort of drugs, Britney refused to hand over her children to Kevin's bodyguard at the court appointed time. The standoff lasted over four hours, and police, as well as Kevin himself came to confront the popstar.
TMZ is reporting that an ambulance actually took Britney from her home in a gurney, and that after over a year of totally insane behavior, medical professionals will finally have their say in the matter.

We're told Britney is being taken to a local hospital on a "medical hold"—essentially a mental evaluation. Cops found her earlier this evening at her home under the influence of an "unknown substance."
Let's take a look back at Britney Spears' toxic behavior in 2007... failed rehab attempts, random tattoos, that infamous shaved head incident, umbrella battles with the paparazzi, crotch shots, an uninspired VMA performance, that OK magazine breakdown, her daily habit of driving around Hollywood at night to be photographed, a constant change in companions, her feud with the rest of the Spears clan, an alleged affair with one of the paparazzi who follows her every move, and last but not least allegations of bad parenting including whitening her children's teeth and feeding them pop out of their bottles.
I really feel sorry for this girl. I wonder if she could send a couple of those millions she throws away to me. I would surely put them to better use than she does. I mean, have you see the horrid clothes she wears? I'd buy way cuter stuff. *g*
Now these people should take a trip to London and find the crazy fuck goes by
Amy Wino
.
Related:
Labels: britney fucking spears, celebs crap