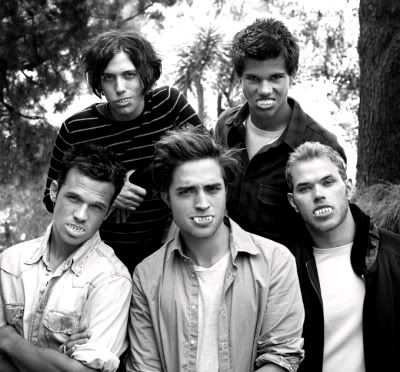 Ah, Carlisle, ye all-knowing Hottie McVampire... Here's my no-spoiler-review of
Twilight
:
I snickered, I cringed, I almost barfed. Truly, I still can't believe how BAD this movie is. Like, unbelievably embarrassingly horrendous. *shudder* FYI "true" Twihards (gotta laugh!) or whatever you wanna call yourselves now, who screamed their heads off every fucking time 
"Edward"
appeared on the screen, despite all my bitching
I LOVE Twilight
, and, to be fair I once thought Rob was a bit of a cutie in
GOF
; believe it or not I WANTED to like this film. Now, most adaptations don't measure up so I allowed room for disappointment—as in I went in with the lowest bar of expectation; worthy of Sarah Palin low. I knew it wasn't going to be exactly like the book but for fuck's sake, they could have done a better job of it!
As I've predicted
, hee, I snickered at various scenes—I couldn't help it. Well really, I'm not the only one. The acting was so atrocious people were laughing even when the scene was supposed to be SERIOUS. Still, that's nothing compared with the times I had to cringe (bloke that sat next to me probably thought I had Parkinson's :/). I.e. I cringed every time Edward looked at Bella. Actually, he was staring... staring and staring and—oh, my lord jeezuz—fucking staring... while precious Bella reciprocated with heavy breathing (fine, she blinked—like every 3 seconds or so). Edward was channeling croaky, jumpy
Peter Brady
(R.I.P. refined, oh-so-sophisticated Edward *sniff*); Bella was imitating a robot—or, er, WAS she a robot? I'm confused. :S The success of the film relies on the interaction and chemistry between the two because IT'S THEIR ROMANCE that has given the book its meaning, making it work—and yet their scenes together were utterly PAINFUL to watch (verra unpleasant, I tell ya). That alone made the movie fail.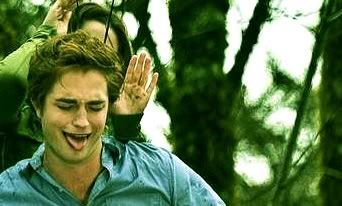 Then, the makeup: IICK! The Joker must have been
Twilight
's makeup artist. It was SO AWFUL that the actors' faces looked as if they were falling apart. I actually pity the fools because you could see the makeup caked on their faces. I mean, hel-lo, it's one thing to sound stupid but to look fugly too?!? What evil, EVIL torture! I guess while filming the poor actors had to avoid mirrors and shiny metals and lakes and stuff, or else they ran the risk of seeing their reflections and scream "Save me, Batman, save meeeee!!!"
Er, anywho, many characters were useless (jolly Emmett was a dud), some were annoying (especially fucktard Mike), while others looked like they'd been cast in the wrong bloody movie (Jacob could be in
Planet of the Apes
, while whatshisface who played Jasper was channeling Edward Scissorhands, except not EVEN nearly as good, or as good looking—HE WISHES—as
darling Johnny
). The movie itself was choppy, didn't flow, and there were a lot of "WTF?" moments. I won't mention any in case any of you lot who've yet to see it 
feel the need to jab popcorn into your ears or poke your eyes out with soda straws MWA HA HA
be *ahem* surprised.
I swear watching the film was very embarrassing. I kid you not when I say I was mortified someone I know might see me as I was coming out of the theatre. It was soooo cheesy and stupid and, dunno, just plain awkward and weird. Stephenie must be disgusted how they butchered her book with terrible directing, bad acting and weak script. And, um... honestly, people, it is *2008* and, though I'm technically-challenged, even I know computers do fab things in the way of special effects. Maybe next time they'll hire someone who actually KNOWS how to use one.
Anyhoodles, go see
Twilight
... if you dare LOL. I'm sure you'll get a few unintentional laughs out of it. ;P
Labels: and so the lion fell in love with the lamb, bitch at the movies, i heart ya, paranormal oh joy